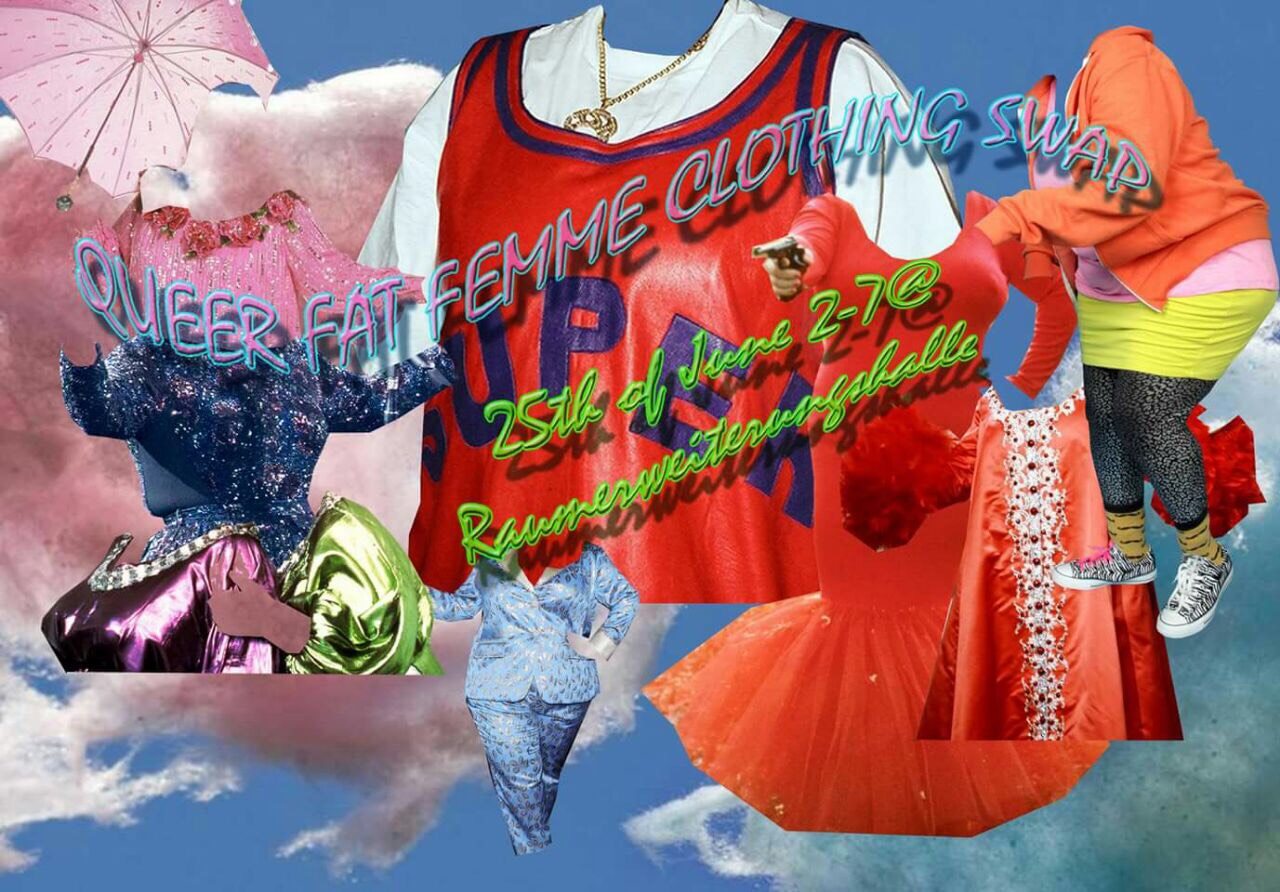 It is summer and we invite you to join us for another queer fat femme clothing swap at lovely Raumerweiterungshalle. 
Bring your stuff, browse, hang out, connect.
Please bring your own snacks.
We will have a donation box for the swap.
Please read the guidelines (german version below/auf deutsch weiter unten)
*GUIDELINES*
- When you are bringing stuff, please focus on clothes that fit a variety of body types. Please leave tiny or small clothes out. Orientation: Size 16 (44) and up or stretchy as fuck.
- Needless to say, the things you bring should be clean and not *too* broken. Jewellery, make-up, shoes, deco, wigs and so on are all very welcome!
- Please do not bring racist/cultural apropriating stuff like afro wigs or headdresses etc.
- Please be sensitive considering the clothes you are taking. When you are a baby fat, chubby or let's say under a size 22 (50) do not take the only beautiful shirt in a size 28 and wear it as a oversize dress. From experience there is always a shortage of pretty super size clothing, like in the real world. so let's share the gems we have. 
- All allies are welcome. If you are at the clothing swap as an ally don't take  the clothes befor 7pm (End). Support us, have a lemonade, enjoy the music.
- Most areas at Raumerweiterungshalle are wheelchair accessible incl a Toilet. If you encounter any problems, please let us know and We'll try to find a solution. There is no space for racism, homo- and transphobia, fat-shaming and sexism.
******************
Es ist Sommer und wir laden euch zu einem weiteren queeren,fetten, femme Kleidertausch in die ultra mega tolle Raumerweiterungshalle ein.
Bringt Klamotten, wühlt, hängt ab und verbündet euch.
Bitte bringt eure eigenen Snacks.
Wir werden auch eine Spendenbox für den Swap aufstellen.
Bitte beachtet die Hinweise
*HINWEISE*
- Wenn du Klamotten mit bringst achte bitte darauf das sie einem großen Spektrum von Körpern passen. Bitte last klitzekleine  und kleine Sachen zuhause. Orientiert euch an Größe 44 und mehr oder dehnbaren Materialien.
- Die Dinge, die ihr mitbringt, sollten sauber sein und nicht all zu kaputt. Schmuck, Make Up, Schuhe, Deko und Perücken sind auch sehr willkommen.
- Bitte bringt keine rassistischen/kulturell aneignende Sachen mit wie zbsp. Afro Perücken oder Federkopfschmuck.
- Sei sensibel wenn du dir Kleidung nimmst. Wenn du eher in das untere Spektrum der großen Größen gehörst oder sagen wir unter Größe 50 trägst, dann nimm dir bitte nicht das einzige schöne T-Shirt in Größe 58 und trag es als Übergroßes Kleid. Aus Erfahrung wissen wir das es immer einen Mangel an schönen sehr großen Größen gibt, wie in der Welt da draußen, also lasst uns die Schätze, die wir haben, teilen!
- Alle Verbündeten sind willkommen. Wenn du beim Kleidertausch als Verbündete bist dann nimm dir keine Kleidung vor 19 Uhr (Ende). Unterstütze uns, trink eine Limo, genieß die Musik.
- Die meisten Bereiche inkl. Toilette der Raumerweiterungshalle sind Barierefrei. Solltest du Probleme haben, bitte sprich uns an und wir versuchen eine Lösung zu finden. Hier ist kein Platz für Rassismus, Homo- und Transphobie, Beschämung fetter Körper und Sexismus.