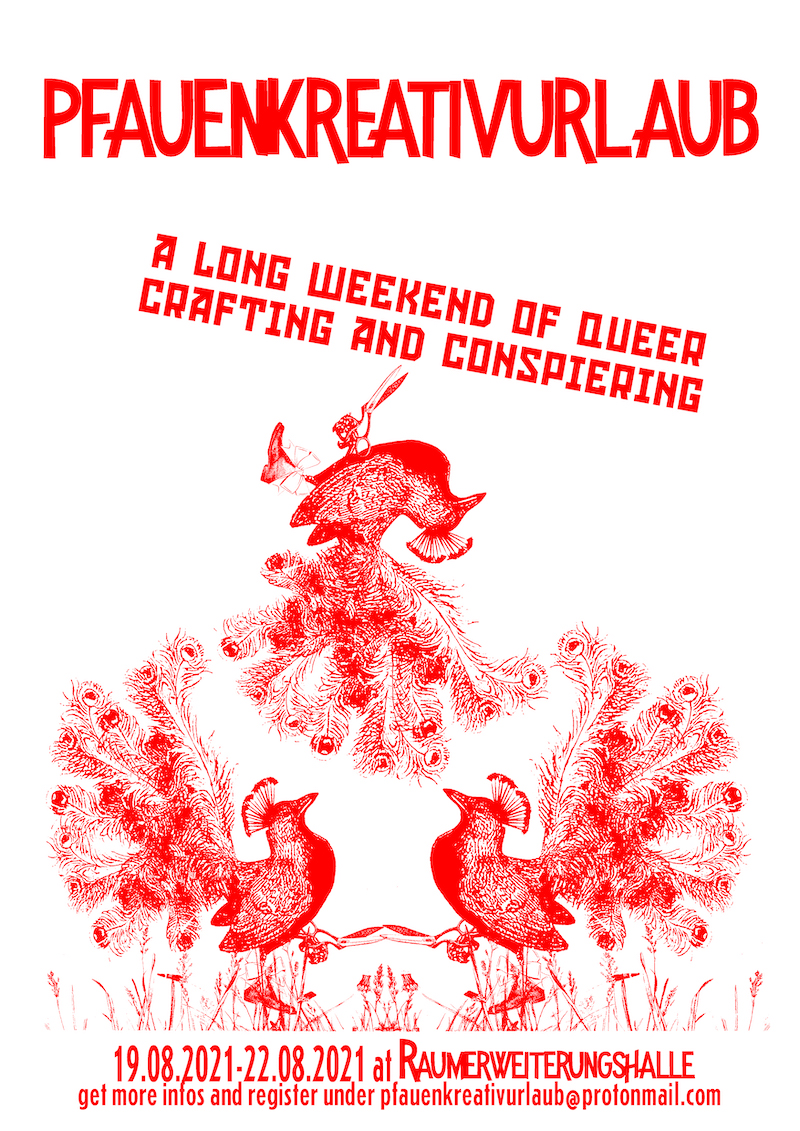 the event is free of charge

more info an registrations: pfauenkreativurlaub@protonmail.com
accessibility infos: Raumerweiterungshalle has a ramp and an accessible compost toilet. There is wide and stable seating without armrests available.  You will be hearing loud electronic music from the club next door. We will provide earplugs at the bar. Please bring a proof of vaccination or anegative test result.
Pfauenkreativurlaub - what does it mean?
Pfauenkreativurlaub is the name of a long weekend of queer crafting and  conspiering at Raumerweiterungshalle. The Name Pfrauenkreativurlaub (literaly: Peacock creative vaccation) is a deriviation of the word Frauenkreativurlaub (literaly: women creative vaccation) which one of us stumbled across during research at an archive that collects documents of the women and lesbian movement in the GDR. The Frauenkreativurlaub used to be a bunch of lesbian women who went to the countyside to be creative, conspire and build community. It has been more than 30 years since the "creative women" excursion.

Political Systems have crumbled, new media emerged, social movements have fought for social change and are still doing so.

Weaving on to this, we ask the question: How can we pick up the threads of the past? Under what conditions can we come together today, exchange ideas, feel more secure and learn from one another? What knowledge do we want to keep? To playfully open the word, Pfauen is deduced of Frauen  and invites all kind of queer identities to take part at this event.
Pfauenkreativurlaub - What is this about?
Four artists and one writer will bring  a set of their crafty techniques to Raumerweiterungshalle and create the room for five different sessions of silk painting, sewing and embroidery, screenprinting, paper and textile marbling and Bookbinding. The Sessions will be taking place from Thursday till Sunday. You can join for just a couple of hours, a day or for the whole weekend. Please note that you have to register previous to the event via email. We have a capacity of 15 Guests a day. We don't want to facilitate a one way learning experience but more of a fluid space where you can float in and out of techniques, share and combine them. We want to open a space in which "doing" is decoupled from "producing". We want to turn away from results-oriented work. We want to pause and take a breather while realizing that it is easier to talk to each other when our hands are busy. The things that are created during the "Peacock Creative Vacation" tell of our time together, our exchange, our similarities and differences. There will also be a cooking station where we can prepare lunch, snacks and dinner. Raumerweiterungshalle has a bar where you can get lemonade and alcoholic drinks for  a donation. Coffee, Tea and water are free. The Event will be sober till 7pm
Pfauenkreativurlaub - The Sessions
Melo Börner Session Applike
textile collages (languages: german,english)
Seb Ymai Pink Lab 
screenprinting (languages: english, spanish)
Cornelia Herfurtner 
silk painting  (languages: german, english)
Laura Basten hand stuff, voices & words. 
Book binding, collaborative writing/ reading session(s), Pfauen Zine (languages: german, english)
Lee Stevens  wishy-washy
paper and textile marbling (language: german, english)

read more about the sessions here


+++ auf deutsch +++
die Veranstaltung ist umsonst

mehr Infos und Anmeldung: pfauenkreativurlaub@protonmail.com
Infos zur Barrierearmut: Die Raumerweiterungshalle verfügt über eine Rampe und eine barrierefreie Komposttoilette. Es stehen breite und stabile Sitzgelegenheiten ohne Armlehnen zur Verfügung. Ihr werdet laute elektronische Musik aus dem Club nebenan hören. An der Bar stellen wir Ohrstöpsel zur Verfügung. Bitte bringt einen Impfausweis oder ein negatives Testergebnis mit.
Pfauenkreativurlaub – was bedeutet das?
Pfauenkreativurlaub ist ein langes, queeres Wochenende das zum gemeinsamen basteln und zu konspirieren in der Raumerweiterungshalle einlädt. Der Name Pfrauenkreativurlaub ist eine Ableitung des Wortes Frauenkreativurlaub, auf das wir bei einer Recherchen in einem Archiv gestoßen sind, das Dokumente der Frauen- und Lesbenbewegung in der DDR sammelt. Unter dem namen Frauenkreativurlaub reiste eine Gruppe lesbischer Frauen aufs Land, um kreativ zu sein, sich zu verbünden und Gemeinschaft zu leben. Seit dem Ausflug der "kreativen Frauen" sind mehr als 30 Jahre vergangen.

Politische Systeme sind zerfallen, neue Medien entstanden, Soziale Bewegungen haben gesellschaftliche Veränderungen erkämpft, und tun dies noch.

Daran anknüpfend stellen wir mit dem "Pfauenkreativurlaub" die Frage: Wie können wir die Fäden der Vergangenheit aufnehmen und an sie anknüpfen? Unter welchen Be- dingungen können wir heute zusammenkommen, uns austauschen, sicherer fühlen und voneinander lernen? Welches Wissen wollen wir bewahren? Um das Wort spielerisch zu öffnen, leitet sich Pfauen von Frauen ab und lädt allen möglichen queeren Identitäten ein an der Veranstaltung teilzunehmen.
Pfauenkreativurlaub – worum gehts'?
Vier Künstler:innen und eine Schriftstellerin bringen eine Reihe ihrer Techniken in die Raumerweiterungshalle und gestalten einen Raum in dem fünf verschiedene Sessions stattfinden werden.
Seidenmalerei, Nähen und Sticken, Siebdruck, Papier- und Textil Marmorierung und Buchbinderei. Die Sessions finden von Donnerstag bis Sonntag statt. Ihr könnt nur für ein paar Stunden, einen Tag oder das ganze Wochenende teilnehmen. Bitte beachtet dass ihr euch vor der Veranstaltung per E-Mail anmelden müsst. Wir haben eine Kapazität von 15 Gästen pro Tag.
Wir möchten keine einseitige Lernerfahrung reproduzieren, sondern eher einen fließenden Raum schaffen, in dem wir in die unterschiedlichen Techniken hinein und und hinaus fließen können, der uns zum teilen und kombinieren anregt. Wir wollen einen Raum öffnen, in dem "Tun" vom "Produzieren" voneinander entkoppelt wird. Wir wollen uns von ergebnisorientiertem Arbeiten abwenden. Wir möchten innehalten und eine Verschnaufpause einlegen und erkennen, dass es einfacher ist, miteinander zu sprechen, wenn unsere Hände beschäftigt sind.Die Dinge, die während des Pfauenkreativurlaub entstehen, erzählen von unserer miteinander verbrachten Zeit, unserem Austausch, unseren Gemeinsamkeiten und Unterschieden.
Es wird auch eine Kochstation geben, an der wir Mittagessen, Snacks und Abendessen zubereiten können. Die Raumerweiterungshalle verfügt über eine Bar, an der ihr Limonade und alkoholische Getränke kaufen könnt. Tee, Kaffee und Wasser sind kostenlos. Wir bitten euch täglich bis 19 Uhr auf Alkohol und andere Rauschmittel zu verzichten.
Pfauenkreativurlaub - die Sessions
Melo Börner Session Applike
Textilcollagen (Sprache: Deutsch, Englisch)
Seb Ymai Pink Lab 
Siebdruck (Sprache: Spanisch, Englisch)
Cornelia Herfurtner 
Seidenmalerei (Sprache: Deutsch, Englisch)
Laura Basten Handzeug, Stimmen & Worte.
Buchbinden, gemeinsame Schreib-/Lese Session(s), Pfauen Zine (Sprache: Deutsch, Englisch)
Lee Stevens Wischi-Waschi
Papier- und Textil Marmorierung (Sprache: Deutsch, Englisch)

mehr Infos über die Sessions hier