WINTERSCHLAF
It's that time of the year again... The Halle is hibernating. Thank you to all contributors, helpers, and visitors for sharing a wonderful season with us. We will be back for you next spring! Meanwhile, there might be irregular single events organised on tour in other spaces, and possibly, at some point, news on the Halle sauna. <3

Saturday
November 23 '19
20:00
Finanzcoop oder Revolution in Zeitlupe?
Lesung und Gespräch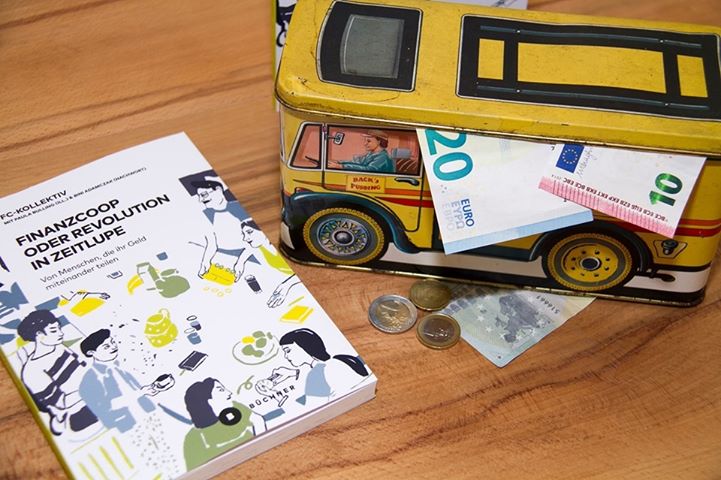 ***** english below *****
Das Buch stellt eine Gruppe von Menschen vor, die etwas anders machen als der Rest der Gesellschaft: Sie teilen ihr Geld, obwohl sie weder in derselben Stadt leben, noch durch familiäre Bande zusammengehalten werden. Mehrmals im Jahr kommen sie zusammen und regeln ihr finanzielles Auskommen der nächsten Monate. Dieses Modell heißt Finanzcoop.

Das gemeinsame Bankkonto, hervorgegangen aus dem Experiment einer WG im Jahr 1998, ist für die mittlerweile sieben Mitglieder zum Alltag geworden. Ihr regelmäßiger Austausch über Geld, materielle Werte und vor allem die eigenen Bedürfnisse hat sie zu Expert_innen gemacht. Dafür, was Geld in unserer Gesellschaft bedeutet, was es leistet, aber auch verunmöglicht. Und dafür, welche unentdeckten Freiräume eine andere Art von Ökonomie schaffen kann. In dieser Zwischenbilanz zu ihrem auf Lebenszeit angelegten Modell geben sie Einblicke, was ihre Neuerfindung einer Solidargemeinschaft, die quer zu Familie und Staat steht, bedeutet: für Partner_innen, Eltern und Kinder, für ihre Einstellung zu Erwerbsarbeit und unbezahlten Tätigkeiten, Nachwuchsplanung, Alterssicherung.

In ihren Berichten und Reflexionen machen die Mitglieder des FC-Kollektivs deutlich, dass diese Neuordnung der eigenen Verhältnisse gar nicht so radikal ist.
Durch den Abend führt Juliane Karakayali.

Finanzcoop oder Revolution in Zeitlupe,
FC- Kollektiv, Paula Bulling, Bini Adamczak, Büchner Verlag 2019
***** english *****
finance coop or revolution in slow motion?
reading and conversation
The book introduces a group of people who do something differently from the rest of society: they share their money, although they do not live in the same city, nor are related by blood. Several times a year they gather to manage their livelihood for the next couple of months. This model is called finance coop.
The joint bank account started as experiment in a flat share in 1998. Today it has become an everyday occurence for the now seven members. Their regular exchange about money, material goods and especially their individual needs has made them experts. For what money means in our society, for what it does, but also for what it prevents. And for which unexpected spaces of possibility another kind of economy can create. In this interim balance of their lifetime project they give insights into what their re-invention of a community in solidarity means, that is at odds with family and state: for partners, parents and children, for their attitude towards employmet and unpaid labour, procreation, provision for old age.
In their reports and reflections the members of the FC-collective make it clear, that this reshuffling of one's own relations are not all that radical.
Juliane Karakayali moderates the evening.
whisper translation into English will be provided if needed :)
Finanzcoop oder Revolution in Zeitlupe,
FC- Kollektiv, Paula Bulling, Bini Adamczak, Büchner Verlag 2019