Saturday
12. Spetember 09
doors open 19:00
show starts 20:00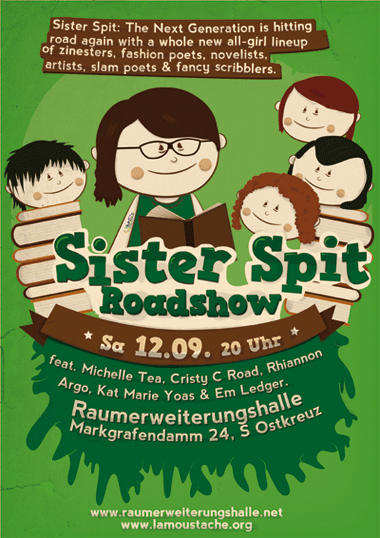 SISTER SPIT ROADSHOW!
Sister Spit, the awesome lit/spoken word/performance troupe led by celebrated author Michelle Tea of 'Rent Girl' and 'Without a Net' fame is coming over to the UK and Europe this September with a whole new line-up of celebrated queer/grrrl artists, writers, zinesters and performers.
Michelle says: 'I write books, and host readings for other people who write books, to be listened to by people who like reading books. My last novel is called Rose of No Man's Land and is about a teenage genderqueer loner who gets mixed up with a speed freak mall rat and falls in love. Or something. My last anthology is called It's So You and it's full of essays by stylish people about how they came to look so great, such as Eileen Myles, Kim Gordon, Jenny Shimizu, Kate Bornstein, Ali Liebegott, Tara Jepsen, Beth Lisick and other modern role models. I run the Radar Reading + Salon series in San Francisco, and every so often pile a bunch of bitches in a van and set off across the country under the guise of Sister Spit: The Next Generation.'
...and the intro for their tour: 'Sister Spit: The Next Generation is hitting the road again, with a whole new all-girl lineup of zinesters, fashion plates, novelists, performance artists, slam poets and fancy scribblers. Inspired by the legendary Sister Spit Ramblin' Roadshow of the 90s, Sister Spit: The Next Generation is hauling a vanload of killer underground female talent across the USA and Europe and into your town. The latest gang hits the road soon, carrying on the tradition of rowdy, raucous literary adventure. Come and meet your new favorite performers'
www.myspace.com/sisterspitnextgen
The confirmed line-up for the UK/Euro tour is as follows:
Michelle Tea (www.myspace.com/michelletea)
"The much beloved Michelle Tea is nothing if not prolific. Author of three memoirs, a book of poetry, editor of two anthologies and contributor to dozens has most recently collaborated on an illustrated novel, and has been working on both a screenplay and a science fiction novel. Her work is often brutally honest, both about growing up in impoverished Chelsea, Massachusetts, and in writing about her sexuality in a way that often gets her labeled "transgressive." She was awarded a Lambda Literary Award for Best Lesbian Fiction and was co-founder of the now legendary all-girl poetry roadshow Sister Spit" - www.bookslut.com
Cristy C Road (www.croadcore.org)
CRISTY ROAD, author and illustrator of Indestructible and Bad Habits, about self-medication, punk rock, feminism, Cuban-American families and girl crushes! Iconic illustrator who has designed zine covers, graphic novels, album covers, logos and all kinds of memorable works in the punk rock sphere.
Rhiannon Argo (www.rhiannonargo.com)
RHIANNON ARGO, skater, future librarian, present novelist. Author of the queer tour-de-force The Creamsicle, which takes you into the lives of pill-popping, pole-dancing, heart-breaking, gender-fucking young queers as they try not to get evicted from their San Franciscan flophouses. Rhiannon will make you giggle and gasp with tales of squalor and splendor!
Kat Marie Yoas (Search her on myspace and facebook)
Kat Marie Yoas is a working class performer, writer and rascal about town. Catch her work in We Don't Need Another Wave.
Em Ledger (www.myspace.com/theworldsamesszine)
Based in the UK, Em runs riot grrrl collective Lola and the Cartwheels and writes 'The World's A Mess and Yr My Only Cure' zine.
presented by LA MOUSTACHE
entrance: donation