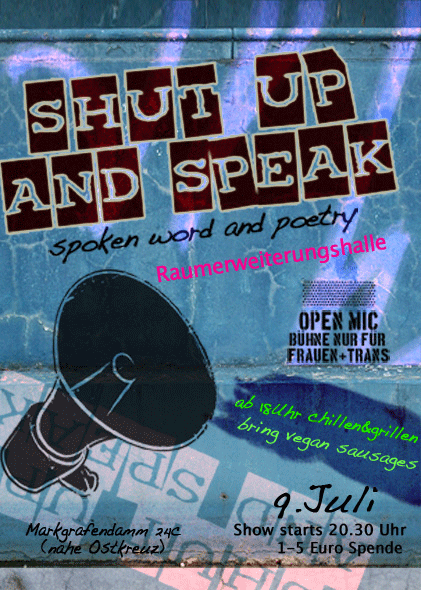 Spoken Word
Liebe Alle, Dear All,
(English version below)
wir freuen uns, euch unsere nächste Show ankündigen zu können:
Shut_up_and_Speak zum Neunten!
- Diesmal zugunsten des linken, feministischen, queeren und anti-hierarchischen UFA Collective aus Warschau - Es erwartet euch ein Sommerabend voller Worte, sanft und schwer, berührend und lustig, heiß und frostig, politisch, emotional, wütend oder leicht ...

Ab 18 Uhr gibts GRILLEN UND CHILLEN auf dem Wagenplatz nebenan
(Markgrafendamm 24) mit Gartenflair und Drinks für einen guten Zweck. Bringt euch was vegan/vegetarisches zum Grillen mit!
Ab 20.30 Uhr wird die spacige Raumerweiterungshalle zu einem verlängerten Wohnzimmer, in dem ihr einen Abend voller Spoken Word und Performances erleben könnt.

Im Anschluss an die Show gibt es ein Open Mic.
Diesmal werfen wir die Namen von allen, die mitmachen wollen, in einen Hut
und losen so die Auftretenden aus. Alle Sprachen sind gern gesehen und gehört - bringt eure Worte mit!

Die Bühne ist nur für Frauen/Lesben/Trans*,
im Publikum sind alle Gender herzlich willkommen.
********************* ***************** ******************

Hi Everyone,
We are excited to announce our next show:
Shut Up and Speak # 9!
-This time in support of the leftists, feminist, queer, anti- hierarchical UFA Collective from Warsaw
It will be a summer evening full of words - light and heavy, touching and funny, hot and freezing, political, emotional, angry, and lighthearted..
At 18h we will begin with BARBEQUING AND HANG OUT at the Wagenplatz next door (Markgrafendamm 24) with garden fun and drinks for a good cause! Bring your vegan and vegetarian food to throw on the grill!
At 20:30h we will turn the Raumerweiterungshalle into an extended living room, where we can enjoy an evening of spoken word performance.

At the end of the show there will be an Open Mic.
This time we will throw all the names of interested performers into a hat and pick out who will be on the open mic stage on this night.
All languages are welcome- bring your words!
The stage is only for Women/Lesbians/ and Trans and all genders are welcome in the audience.