POLYNERVÖS: TOUCH PLEASURE WORK
performances and workshop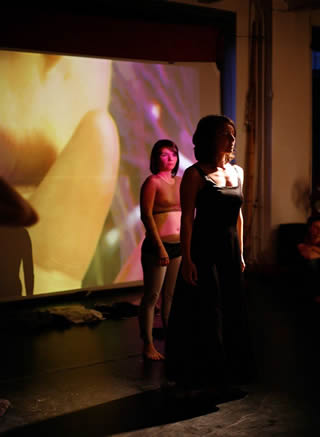 Communicating with our bodies and through touch is the first form of language we learn. It accompanies us throughout our lives.
How does the perception of our bodies influence the possible ways of touching and being touched? What kinds of contact are socially accepted, what is confined to specific contexts? How do prevailing conventions form our bodies and touch? In 'touch pleasure work' the performers discover modes of touch by curiously exploring and playing, opening up new perspectives.
In the second part of the show, we open up the performing area to the audience and invite you to interact directly with the performers.
For reservation contact:touch.theaterprojekt@gmail.com
After performance: URUBU Marinka (VOODOOHOP)
https://soundcloud.com/urubumarinka
On Saturday, 3-6pm, there will be a workshop in which we invite you to get to know the work of the ensemble. Bring comfortable clothes, no prior experience required, language will be English or German, as required. Space is limited to 12 participants. To sign up, or any further questions concerning details, write to touch.theaterprojekt@gmail.com or call Julian: 0151-2016696.
We are looking forward to exploring with you!
https://polynervoes.wordpress.com/https://www.facebook.com/polynervoes/info/?tab=page_info
***********************************
Kommunikation durch Berührung ist die erste Sprachform die wir lernen und sie begleitet uns ein Leben lang.
Wie entscheidet die Wahrnehmung unserer Körper darüber, welche Möglichkeiten des Berührens und Berührtwerdens sich uns eröffnen? Welche Formen von Berührung sind in der Gesellschaft akzeptiert, welche nur in bestimmten Kontexten? Wie limitieren vorherrschende Konventionen, Körper und Berührungen? In 'touch pleasure work' entdecken die Performer*innen durch unvoreingenommenes Forschen und Spielen Berührungsmöglichkeiten und eröffnen dem Publikum neue Perspektiven.
Im zweiten Teil öffnen wir die Spielfläche für eine begrenzte Anzahl von Zuschauer*innen für direkte Interaktion mit den Performer*innen.
Samstag, 21.May, in der Raumerweiterungshalle, 20 Uhr.
https://www.facebook.com/Raumerweiterungshalle
Um Reservierung wird gebeten: touch.theaterprojekt@gmail.com
After performance: URUBU Marinka (VOODOOHOP)
https://soundcloud.com/urubumarinka
Am Samstag, 21. May, laden wir euch ein von 15-18 Uhr in die Arbeitsweise des Ensembles einzutauchen. Bitte bringe bequeme Kleidung mit, keine Vorerfahrung nötig. Workshhopsprache wird je nach Bedarf englisch oder deutsch sein. Anmeldung und alle weitere Fragen bitte an to touch.theaterprojekt@gmail.comoder an Julian: 0151-2016696.
Wir freuen uns auf euch!
https://polynervoes.wordpress.com/https://www.facebook.com/polynervoes/info/?tab=page_info